International Coastal Cleanup - ICC
Coastal Clean-up Event "Clean Village, Blue Sea" (ICC) and Ceremony of "Inauguration of a Pilot Material Recovery Facility (MRF)" in Giao Hai commune, Giao Thuy district, Nam Dinh province
On Wednesday, September 16, 2020, the Centre for Marinelife Conservation and Community Development (MCD) in cooperation with local partners and relevant agencies organized the Coastal Clean-up Event "Clean Village, Blue Sea" (ICC) and the Ceremony of "Inauguration of a Pilot Material Recovery Facility (MRF)" in Giao Hai – a coastal commune in the buffer zone of Xuan Thuy National Park, Giao Thuy district, Nam Dinh province.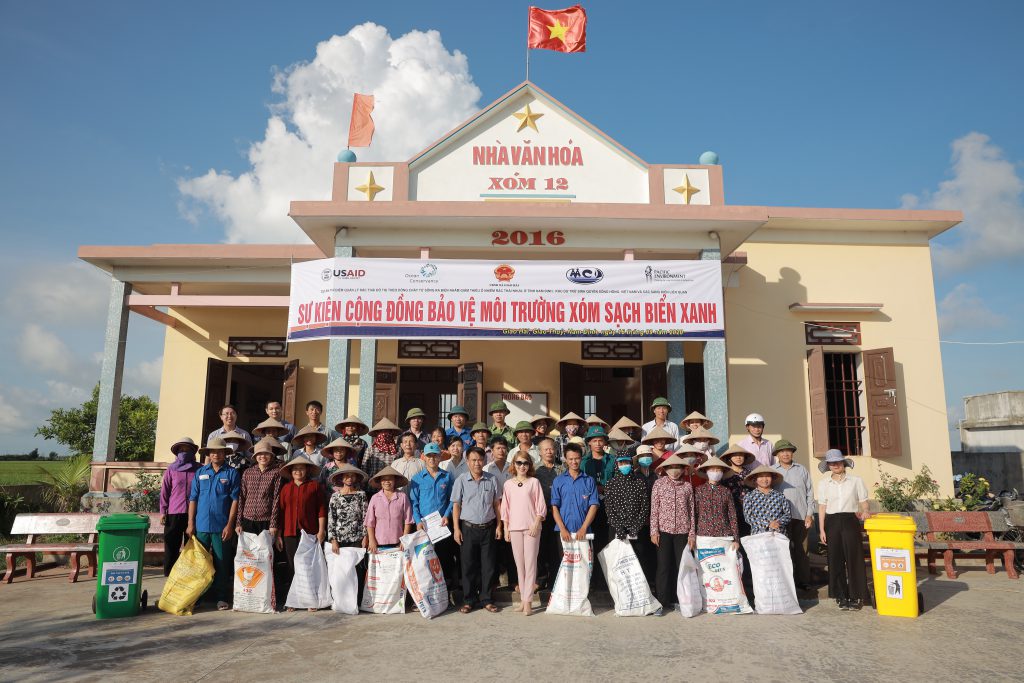 This event was organised in response to the annual International Coastal Clean-ups (ICC) that was first initiated by Ocean Conservancy over 30 years ago in the USA and spread to Nam Dinh by MCD for more than 10 years. The event was also to respond to the anti-plastic waste movement launched by the Prime Minister of Vietnam on June 9, 2019. At the same time it was to support the implementation of the action plan on waste management, marine plastic waste reduction, enhancement of reuse, recycling and proper treatment of domestic waste in Giao Hai commune which is supposed to spread to Giao Xuan and other communes in the buffer zone of Xuan Thuy National Park.
Attending the ICC "Clean Village, Blue Sea" Event and Ceremony "Inauguration of a Pilot Materials Recovery Facility (MRF)" on September 16, 2020 were delegates from MCD, Division of Natural Resources and Environment of Giao Thuy district, Management Board of Xuan Thuy National Park, People's Committee and mass organizations of Giao Hai and Giao Xuan communes and nearly 200 volunteers who are youth, students, women and locals.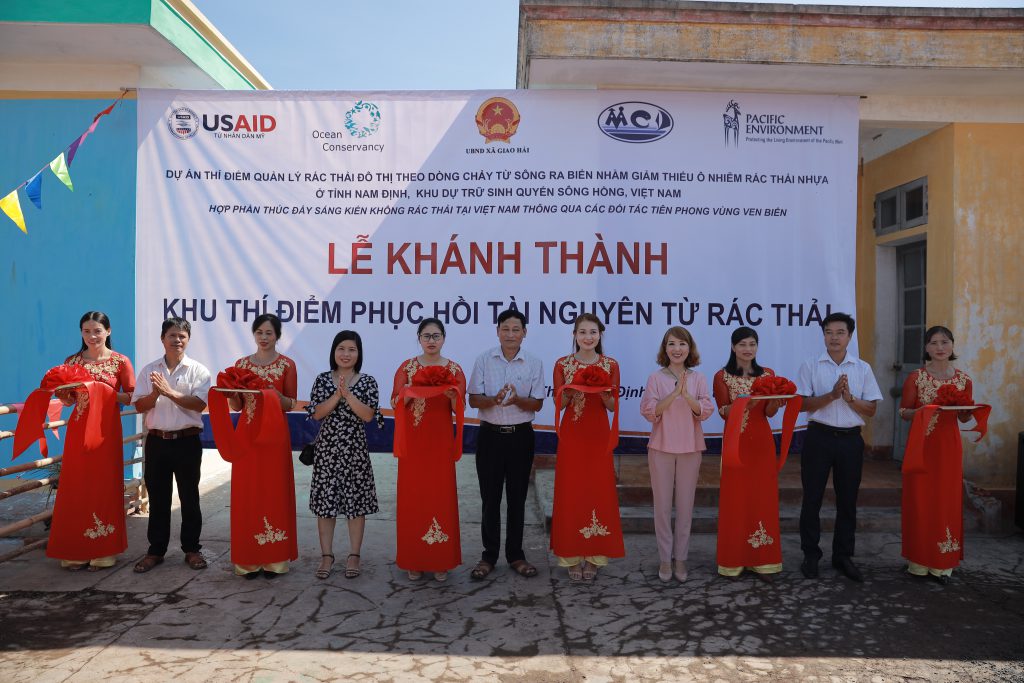 Addressing the ceremony, Ms. Ho Thi Yen Thu, Standing Deputy Director of MCD said "The ICC Event and the Pilot MRF are being implemented to raise public awareness about better waste management, keep the environment green, clean and beautiful, promote the practice of properly collecting and classifying waste, minimize plastic waste in daily life, compost organic waste to create fertilizer for agriculture, and increase reuse and recycling, in order to minimize the amount of waste discharged into the environment and into the sea, striving towards a zero waste community".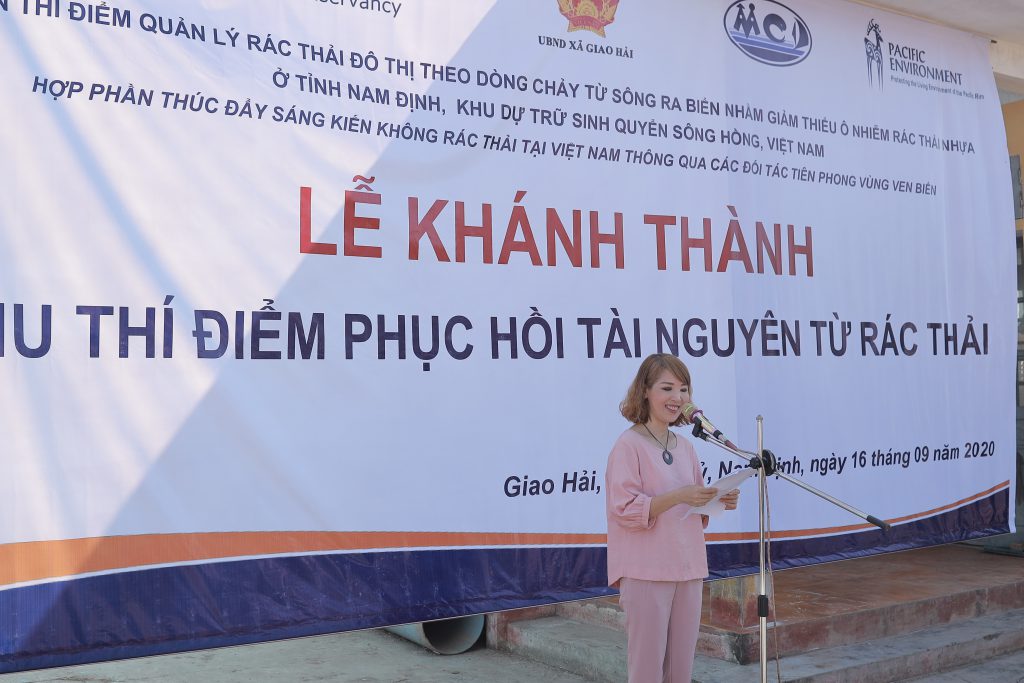 Mr. Tran Van Huyen, Vice Chairman of People's Committee of Giao Hai Commune said, "The People's Committee of Giao Hai commune believes that this activity will help the locals in the commune to have a full sense of responsibility for environmental protection, and encourage them to practice collecting, classifying household waste, not littering into the sea. We will also proactively conduct this ICC activity regularly in our commune and well operate the Pilot MRF, contributing to the implementation of the action plan of waste management of Giao Hai commune in particular and successful implementation of the typical new rural model of Nam Dinh province in general".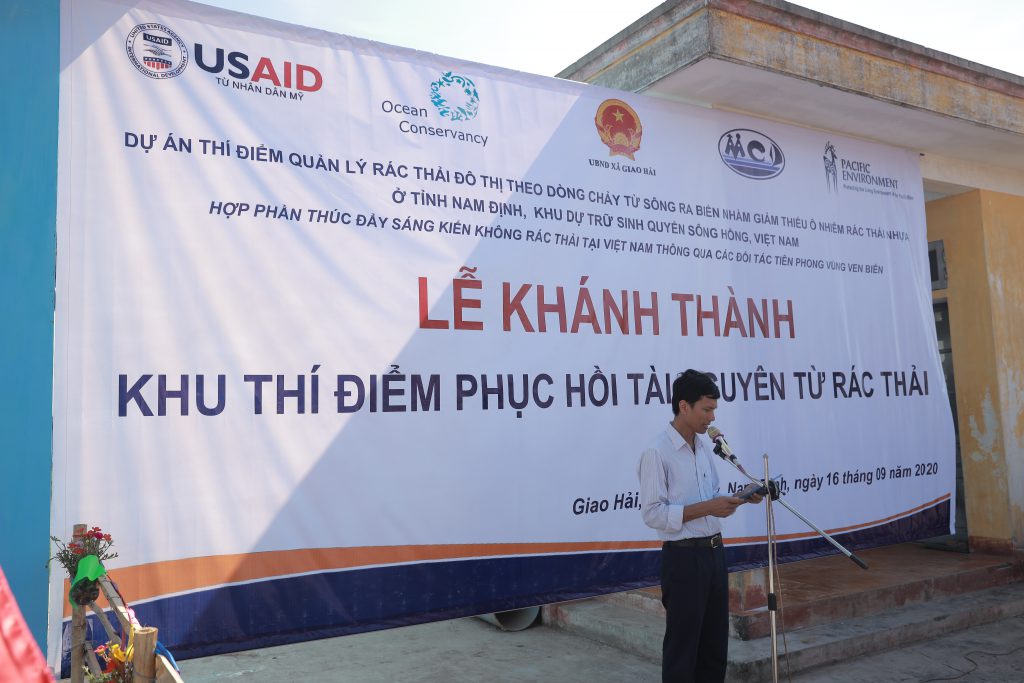 These activities took place within the framework of the project "Comparative pilot waterway municipal plastic waste management practices for reducing marine plastic pollution in Coastal World Biosphere Reserve of Nam Dinh, Vietnam" and the supportive initiatives including "Promoting zero-waste initiative in Vietnam through coastal strongholds" and "International Coastal Clean-up – ICC" led by MCD in collaboration with the local partners in Nam Dinh, with funding from the US Agency for International Development (USAID), Pacific Environment (PE) and Ocean Conservancy (OC).
Read more