MARE
MCD participated in the Summer Course "Coastal and Marine Sustainability Enacted" in Malaysia

MCD Deputy Director, Ms. Ho Thi Yen Thu, represented MCD to participate in the Summer School organized by the University of Technology Petronas and the University Kuala Lumpur, Malaysia. The Summer School was organized during August 15 – 28, 2022, under framework of the Marine Coastal and Delta Sustainability for Southeast Asia Project (MARE).
MARE is a three year project funded by European Commission and aims to promote sustainable governance & management of coastal, delta & marine (CDM) socio-ecological systems in Vietnam and Malaysia and adjacent waters through ICT-enhanced tertiary education linked to labour markets & wider stakeholder circles.
The "Coastal and Marine Sustainability Enacted!" (COME!) summer school was designed to include a vibrant mixture of interactive sessions, field trips, and group work in an attractive setting, to give participants hands-on project and research experience with a range of issues related to marine, coastal and delta sustainability, which also link with novel and innovative approaches and methodologies.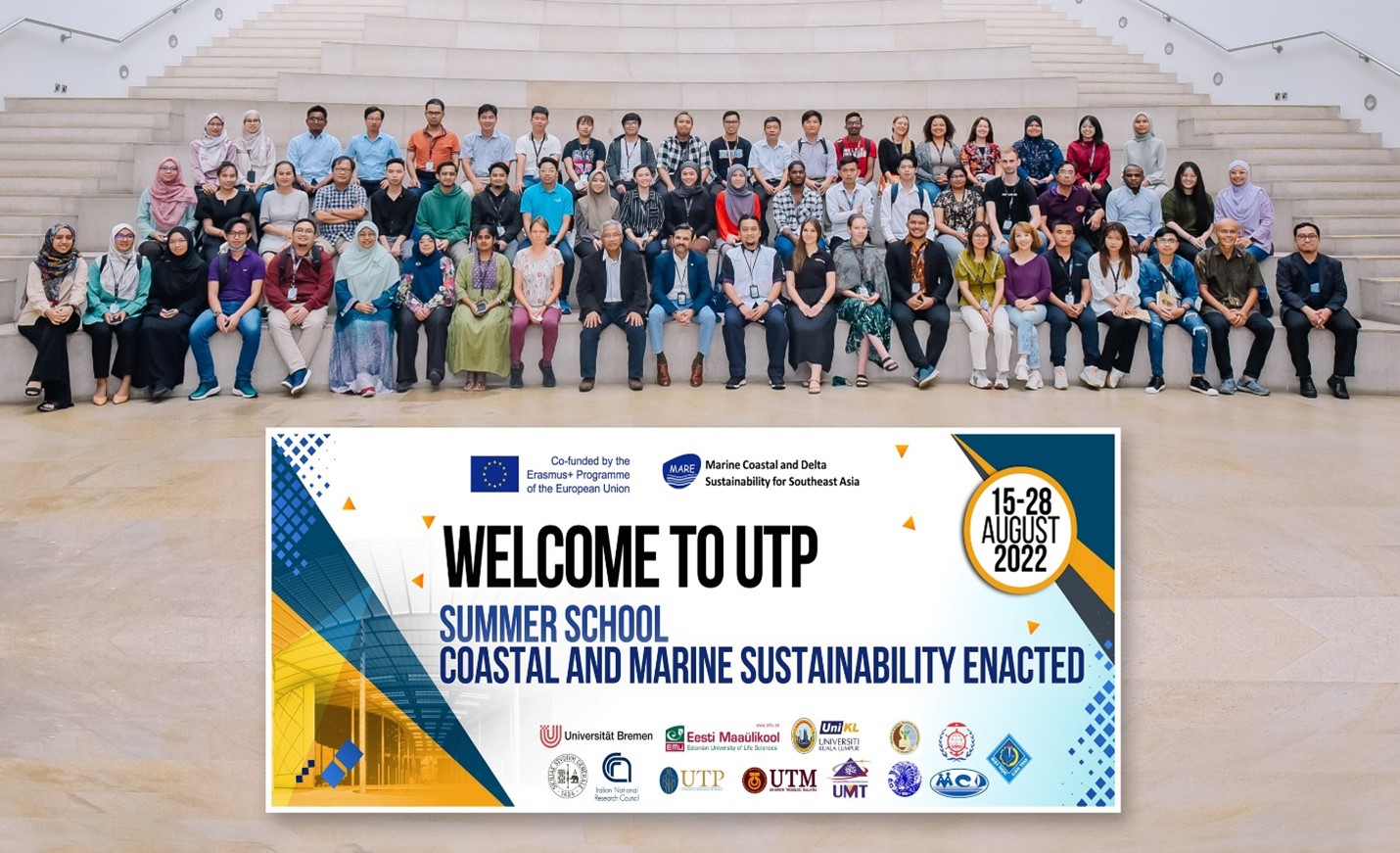 COME! Summer School Participants (at University of Technology Petronas, Malaysia)
After an introductory day with an overall overview of sustainability challenges and the state of art in marine & coastal science, policy and management, during the week 1 the participants (staff and students) followed plenary sessions or one of parallel sessions normally exploring marine or coastal/delta issues. The second week focused on interactions with stakeholders – business, public bodies and NGOs engaged in management & governance activities over marine and coastal resources. To support in-class learning, the educational process included field excursions.
For the participants, the COME! summer school was a valuable learning experience and also a memorable time in Malaysia!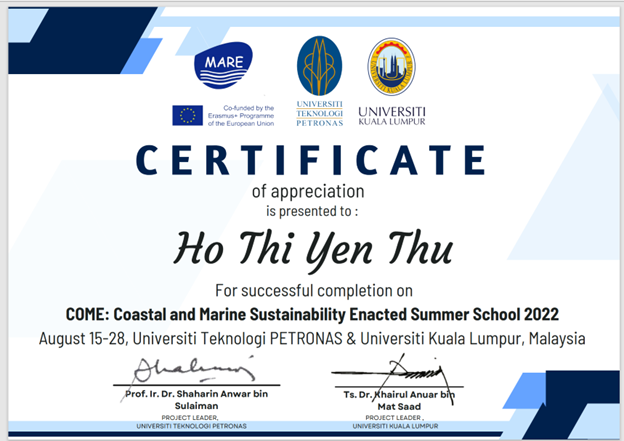 COME! Summer School Certificate of Participation for MCD Deputy Director Ho Thi Yen Thu
Official website of MARE: https://mare-project.net/
Disclaimer
The European Commission support for the production of this publication does not constitute an endorsement of the contents which reflects the views only of the authors, and the Commission cannot be held responsible for any use which may be made of the information contained therein.
This project No. 610327-EPP-1-2019-1-DE-EPPKA2-CBHE-JP has been funded by Erasmus+ CBHE programme of the European Union.
Read more