Coastal resources management
"Enabling Boat" students tell tales to inspire peers
More than 50 students and teenagers from difficult families in Halong city who participated in the "Enabling Boat" project shared their experiences and lessons with more than 700 other students at two secondary schools.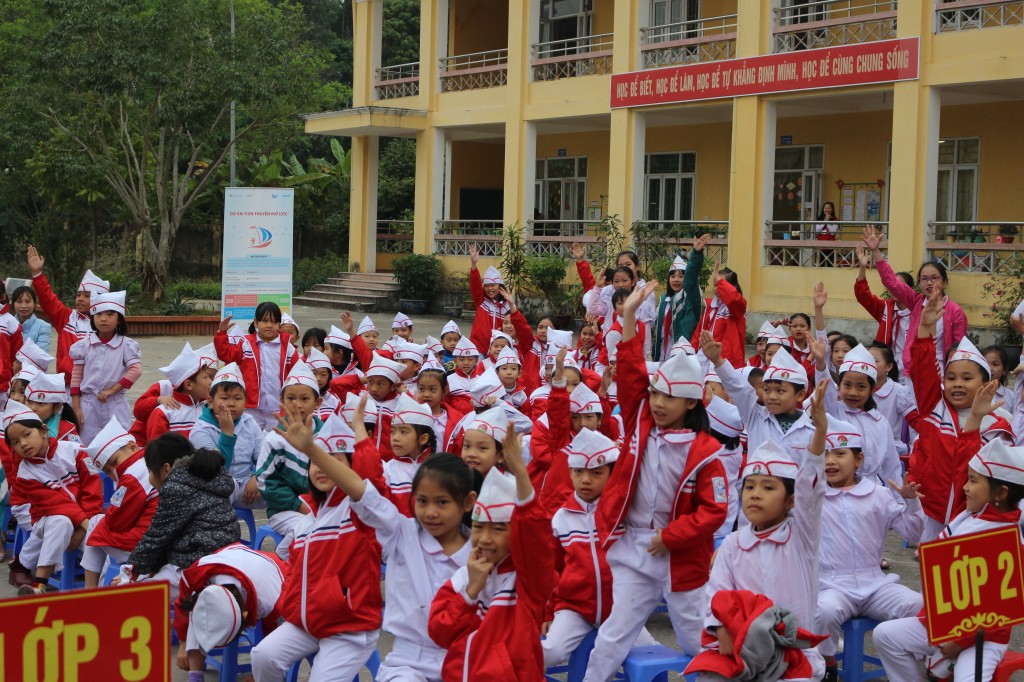 The students answered questions about IT, computer science, and marine environmental protection
The cold winter weather turned warmer at the two secondary schools as the participants of the "Enabling Boat" project recounted their stories.
The visits were held at Tuan Chau Primary and Secondary School and Nguyen Viet Xuan Primary and Secondary School, where many of the disadvantaged students of Halong city are studying.
The sharing sessions were held as extracurricular classes for all students. At each school, 25 students and teenagers participating in the project shared their knowledge and skills in information technology (IT), computer science, and marine environmental protection that they picked up at "Enabling Boat" training with hundreds of other students.
The events attracted the participation of a large number of students, raising awareness about marine environmental protection, encouraging their learning spirit, and especially pushing them to learn to use computers and IT applications.
At the visit, students of the project took part in a short drama simulating the "Enabling boat" classes that they joined.
Through a naturally-flowing and entertaining conversation, they talked of what they have learned from the project as well as talked of the effective learning methods they picked up to help others study better.
At the end of the session, all students had a chance to understand the project by answering short questions about general knowledge of soft skills, marine environment, and applying IT and computer science in their studies and life. This session not only helps them to better understand the project, but also encourages them to actively learn and expand their knowledge.
In addition, another interesting and rewarding activity for students was a training session on essential soft skills.
The exchange has created a new learning space which allows students to access knowledge in a fun and effective way, thus stimulating them to explore the ocean of knowledge at their fingertips and the bigger world.
The "Enabling Boat" project is sponsored by tech giants Microsoft and Acer, implemented by the Centre for Marinelife Conservation and Community Development (MCD) in collaboration with the Vietnet Information Technology and Communication Centre (Vietnet-ICT) and local partners.
The project provides training sessions on practical soft skills, basic knowledge and skills in information technology and computer science, environmental protection, and climate change for more than 200 local students and youths in the difficult coastal areas of Halong city.
Below are photographs from the closing ceremony:
Read more