Coastal resources management
Nourishing dreams of disadvantaged youth in coastal areas
The closing and award ceremony of the "Computer Science and Information Technology–Nourishing Dreams" competition sponsored by Microsoft has been organised this morning in the northern province of Quang Ninh's Halong city to deliver awards to 52 innovative information technology products created by disadvantaged youth in the coastal areas.
The contest was open to young people from junior high school and youths from impoverished coastal areas of Ha Long city, including Hung Thang, Tuan Chau, Ha Khanh, and Ha Phong wards.
It especially encouraged the participation of the youth who have limited access to science and technology facilities. With the help of Microsoft computer software, they expressed their dreams and aspirations for the future or brought ideas contributing to environmental protection and the sustainable development of Halong Bay.
The contest attracted the participation of many young people. Nearly 200 entries were sent to the organisers, expressing dreams through imaginative and creative technology products.
After participating in the training sessions on basic digital skills of the "Enabling Boat" project, having access to software and technical tools, the students have explored and created their own technology products.
Specifically, the products were created with Office tools like Powerpoint, and basic programming software such as Kodu, Scratch, and Movie Maker. With Paint, they drew their dreams of becoming astronauts, football players or their wish for a peaceful world without war.
In addition, many students used Kodu programming to create animated programmes to tell about their dreams of future careers and ideas contributing to the development of their city, such as protecting the environment and preserving the beauty of Halong Bay. Each work is a story, a dream worth cherishing and praising.
At the awards ceremony, the organisers awarded two A prizes, 10 B prizes, and 40 encouragement prizes to nurture and develop talent. In particular, two A prizes went to the two most moving stories that use the most effective information technology solutions. The awards were given to Nguyen Thi An, student of class 8A1 of Minh Khai Secondary School, for the "Dream of becoming a teacher" picture designed by Paint and to Luong Thi Thuy Ha from Ha Phong ward with a Power Point slide "Halong—my loving city."
At the same time, eight scholarships were granted to eight teenagers who have overcome difficulties to participate in the "Enabling Boat" project with the hope that these scholarships can bring learning opportunities in technology and environmental protection for them.
Le Hong Nhi, Citizenship Manager of Microsoft Vietnam, shared: "Every child, regardless of where they live and how they grew up, has beautiful dreams and special potentials. Information technology can help them get closer to their dreams and discover these potentials. The contest encourages and honours young technology talents in difficult coastal areas. The "Enabling boat" project has aroused participants' passion for computer science, so that from now on, they will continue to dream and use technology to realise their dreams."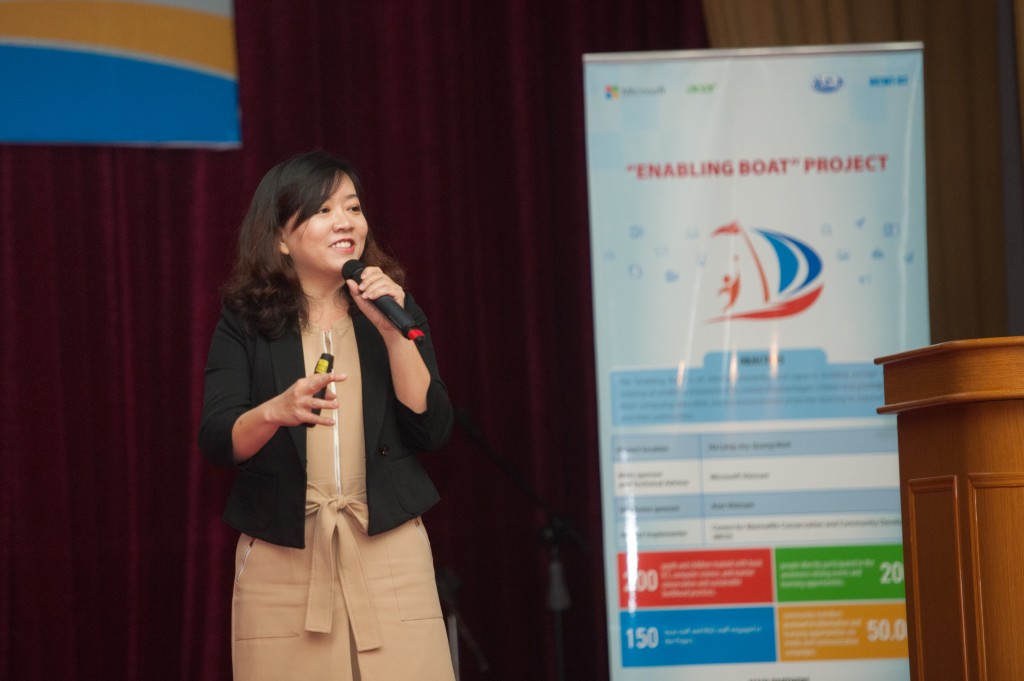 Vo Ngoc Dien, general director of Acer Vietnam, shared: "We are delighted that Acer computers accompanied this meaningful programme. We would like to send the best gifts from Acer to the winners of this contest."
The contest is a part of the "Enabling Boat" project, which is sponsored by Microsoft and Acer, implemented by the Centre for Marinelife Conservation and Community Development (MCD) in collaboration with the Vietnet Information Technology and Communication Center (Vietnet-ICT) and local partners.
The project provides training sessions on practical soft skills, basic knowledge, and skills in information technology and computer science, as well as environmental protection and climate change for more than 200 local students and youths in impoverished coastal areas of Halong city.
Below are photographs from the closing ceremony:
Read more