MARE
MCD participated in the MARE Project's Phase 2 Deployment Meeting

MCD representatives Ms. Ho Thi Yen Thu and Mr. Nguyen Van Cong participated in the Phase 2 Deployment Meeting between the Vietnamese partners of the Marine Coastal and Delta Sustainability for Southeast Asia Project (MARE). The meeting was organized in the Can Tho University during 17-19 September 2020.
MARE is a three year program funded by European Commission and aims to promote sustainable governance & management of coastal, delta & marine (CDM) socio-ecological systems in Vietnam and Malaysia and adjacent waters through ICT-enhanced tertiary education linked to labour markets & wider stakeholder circles. The Vietnamese partners participating in the Project include 4 academic and research institutions (Ho Chi Minh City University of Natural Resources and Environment – HCMUNRE, Can Tho University – CTU, Vietnam Maritime University – VMU, and National Institute of Oceanography – NIO) and 1 non-academic organization (Centre for Marinelife Conservation and Community Development – MCD). All 5 Vietnamese partners participated in the Meeting, both in-person and online.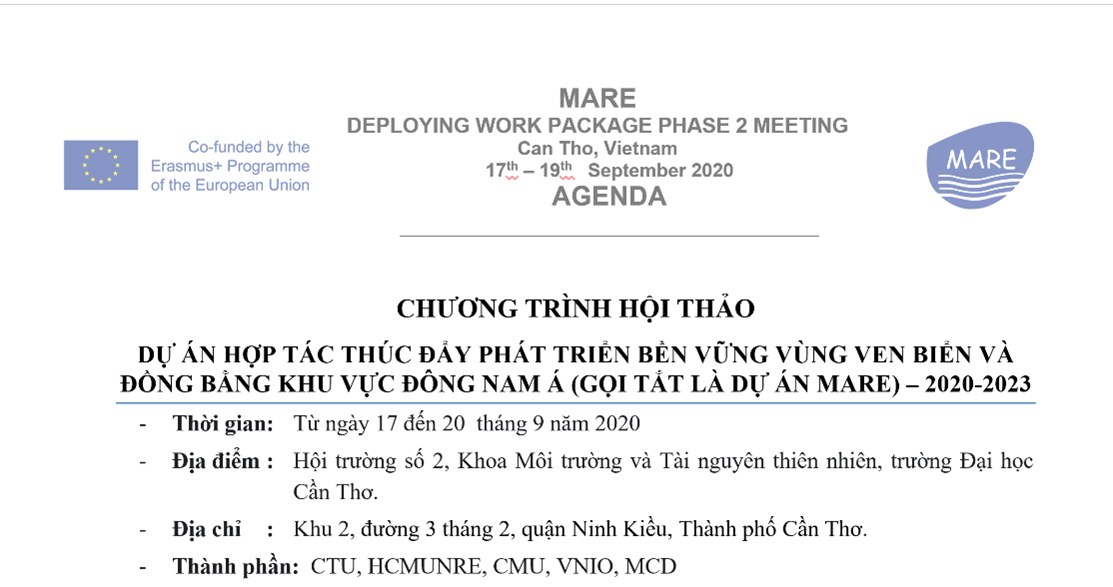 The Meeting focused on two main parts. In the first part, the works done by the Vietnamese partners in the Phase 1 were synthesized and reviewed. In the second part, the partners presented their planning for Phase 2, with discussion for inputs from the participants.  
Participating in the Meeting, MCD briefed about nine key activities that it implemented in Phase 1 and shared about the roles of MCD as a non-academic partner in the Project which mainly include providing inputs from NGO perspective on the project works from academic partners and connecting to support stakeholder engagement for the project academic results. The performance of MCD in the Project therefore needs to be based on the progress and outputs from the academic works. MCD expressed its willingness to support the academic partners in the relevant work packages of the Project.
Official website of MARE: https://mare-project.net/
Disclaimer
The European Commission support for the production of this publication does not constitute an endorsement of the contents which reflects the views only of the authors, and the Commission cannot be held responsible for any use which may be made of the information contained therein.
This project No. 610327-EPP-1-2019-1-DE-EPPKA2-CBHE-JP has been funded by Erasmus+ CBHE programme of the European Union.
Read more