Communication and advocacy
Communication festival on climate change adaptation and marine environmental protection
08. 07. 2014 News
On two days, 6-7/7/2014, Center of Marinelife Conservation and Communication Development (MCD) in collaboration with Vietnam Youth Association at Hai Phong city, held "Communication festival on climate change adaptation and marine environmental protection" at Phu Long commune, Cat Hai district, Hai Phong City.
The communication campaign associated with the event: "Phu Long Communal house festival, 2014", which attract the attention of the local authorities in Hai Phong, the communes in the MCD's project area in general and the community at Phu Long Commune in particular. The purpose were to widespread information about climate change, raising awareness and promoting action of people in coastal areas to adapt to climate change, coastal resource management in familiar and practical way.
Numerous people at Phu Long Commune participated the festival
Through the festival, members of Ho Chi Minh Communist Youth Union (HCYU), youth and numerous people at Phu Long Commune shared knowledge on climate change, climate change adaptation, the responsibility of community members to protect environment and efficiently manage of coastal resources.
By using the forms of music performance, sketch, community games combined with the knowledge about climate change adaptation, environmental protection and responsibility of each coastal resident to protect the environment, protect the coastal environment.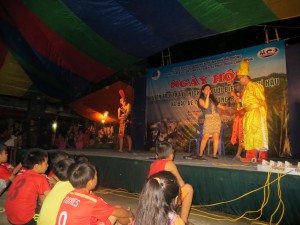 Sketch: "Son Tinh, Thuy Tinh in modern ages" performed by the Blue Light Interns to impart Climate Change Adaptation knowledge and Environmental Protection practices.
The program had excited and enthusiastic support from the community, propagated to each HCYU member, youth, and numerous people to understand more about Climate Change, measures to adapt to climate change and environmental protection in coastal areas, in order to mainstream climate change adaptation measures into daily life.
Within the events, MCD set up a publication booth that transfer more information and knowledge about Climate Change responses for local communities.
The booth of publications by MCD
"Communication festival on climate change adaptation and environmental protection" line in the framework of implementing communication campaign name: "Transform for climate change adaptation", with the purpose of sharing information about climate change adaptation, raising communities' awareness and promoting action to adapt to climate change in coastal areas of Vietnam through livelihoods, natural resource management approaches, disaster risk reduction, climate change adaptation and other cross-cutting themes. With that goal, MCD has been coordinated with the Ho Chi Minh Communist Youth Union and the relevant agencies, organizations at 11 communes in the project areas in Nam Dinh, Thai Binh and Hai Phong…
These activities are based on the coordination of implementation support sustainable development project between MCD and Hai Phong city, through the projects: "Building partnerships to enhance climate change adaptation capacity of coastal communities in Vietnam" was funded by the Australian Government, technical support by Oxfam; and project "Mobilizing young intellectuals to support enhanced climate change adaptation capacity of the biosphere reserve of coastal Vietnam" funded by the McKnight Foundation Foundation.
 MCD
Read more